Asia is the largest and most populous continent. It's easy to get lost here. So hopefully these few of our maps will help you with orientation. Every map of Asia we have prepared for you convenient and free download.
Asia is huge. With an area of ​​44,603,853 km², it is the largest continent. It occupies less than 30% of all rather. With more than 4 billion, it is also the continent with the most people and the most densely favored continent.
In short, you can't just leave Asia aside, which is why we have prepared this article for you, which you will show it very clearly – on maps.
Map of Asia online
First of all, we recommend links to great online services Google Maps and Seznam Mapy.cz (by clicking on the link you will get directly to the maps of Asia). What just these unique services that allow you to explore these continents in unique detail. No paper maps can ever do this.
Also, when you consider the possibility of admitting different layers, such as aerial photographs, the possibilities are huge. I spend many hours alone flying over unknown countries.
Besides, the Google Street View option is perfect, where you can walk through real streets.
Map of Asia list
Other maps are in JPG image format, so you can easily download them to your mobile, tablet or computer and use them however you want. For each map of Asia, the limits, and basic explanations.
Political map (JPG, size 385 kB, resolution 3.000 x 2.00) – Clear and very illustrative political map showing Asian states and their capitals.
Map of Asia regions (JPG, size 161 kB, resolution 1.103 x 1.002)  – Shows the division of the whole of Asia into individual main regions. Probably everyone knows Southeast Asia. But there are a total of six regions here.
Geographic map of Asia (JPG, size 1371 kB, resolution 3.000 x 2.142)  – Mountains, mountains, rivers, lakes, lowlands, and plains – you can find it all on this very detailed geographical map.
Blind map(JPG, size 235 kB, resolution 3,000 x 2,671)  – You need to practice your orientation in Asia. The following blind map of Asia will surely help you with that. Apart from the indicated state borders, nothing is highlighted at all.
Map of the Asia states(JPG, size 262 kB, resolution 3.000 x 2.338)  – Another simple map that can be used as a blind. It is a map of states, on which, however, nothing is drawn except states.
A clear map of Asian states (JPG, size 94 kB, resolution 1,181 x 918)  – Basically just a colored previous map.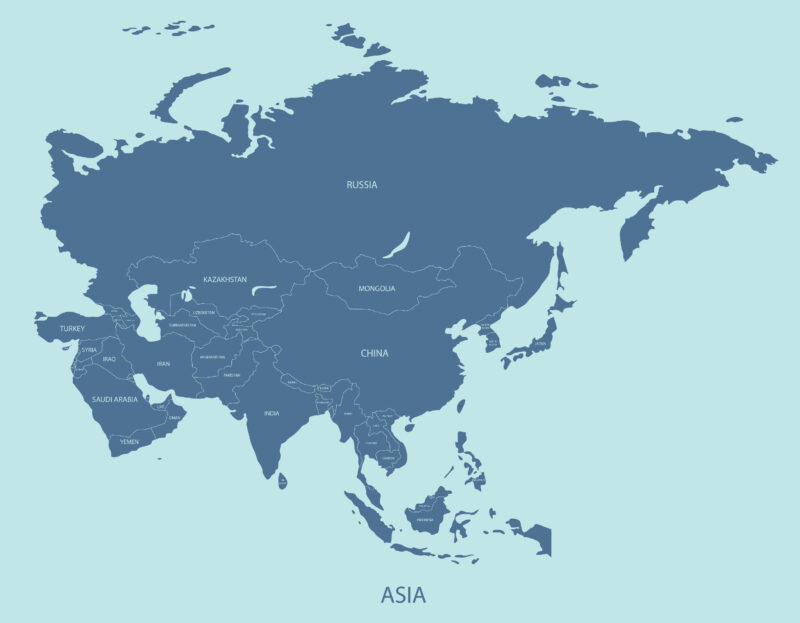 Animated map(JPG, size 703 kB, resolution 2,000 x 1,333)  – A bit of a funny cartoon map that shows some of the main characteristics of Asia.
Map of the states of Southeast Asia (JPG, size 701 kB, resolution 3.000 x 3.086)  – Detailed map of states and large cities in Southeast Asia.
Southeast and South Asia map (JPG, size 449 kB, resolution 2,000 x 1,612)  – A map that deals in more detail with the south of the Asian continent, where the largest number of people live.
Detailed map of Southeast Asia (JPG, size 932 kB, resolution 3.000 x 3.084)  – Another detailed and very tasteful map of Southeast Asia.
Note and use
All our maps of Asia should be of sufficient quality to print on A4 format. And how can you use them? We think of it, for example
Quick orientation, for example, when traveling by plane or before the trip.
Geography – Orientation and cognition of states. Our blind map of Asia is especially useful for this.
Just for fun.
Asia interesting

Almost a third of Asia is covered by just one country, and that is Russia. It is the largest country in the world with an area of 17,098,246 km². By comparison, China has 9,596,960 km2 and is the fourth largest in the world.
Maps of Asia summary
I firmly believe that you like the view of Asia through the original maps and you will find a meaningful use for our maps. It can be anything from learning geography, improving one's orientation in geography, to simple navigation (for example, for a trip by plane).
Each of the maps was created at a slightly different perspective and together provide a unique view of this largest and densest inhabited continent. Asia consists of 44 states, 5 British states, and another 6 dependent territories.
Do you miss any map of Asia? Let us know in the comments and we will try to get it for you if it is only possible.